Los Angeles keeps the crown
As Turo's largest market four years and counting, Los Angeles still reigns supreme as the hottest place to cash in on your car. With that famous year-round Cali sun and one of the strongest car cultures in the world, locals and global travelers alike depend on Turo to explore the City of Angels.
As Turo leaps into a new year, read on for our yearly deep dive into the LA market.
Hosts are earning more than ever, and LA guests book longer trips
Locals and visitors love to take their time driving around the west coast's biggest city — the average Turo trip lasts four days, one day longer than the marketplace average.
LA guests love looking at luxury, but end up going practical
The LA host community boasts one of the widest vehicle selections in the world, so it's no surprise that people enjoy browsing through expensive and interesting cars — 25% of all searches use the luxury filter, and the mighty BMW and Mercedes-Benz are the most searched makes by far.
But when it's time to plan a trip, most people opt for practicality: 21% of guests ultimately book compact cars, and 20% book spacious SUVs. Even though 9% of guests do end up springing for that Bimmer, more end up booking a reliable Toyota (11%) or Ford (10%).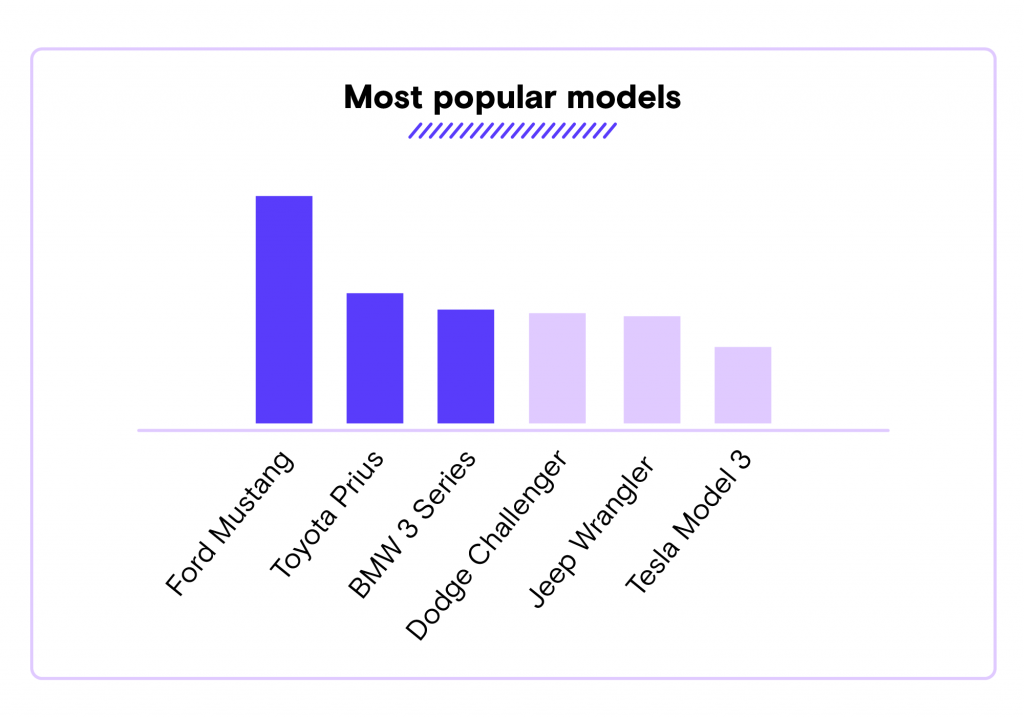 The Ford Mustang is LA's most popular car
The Ford Mustang is Los Angeles' most booked and top earning car. In the past year, the legendary sports car hosted over twice that of the runners-up Toyota Prius and BMW 3 Series.
Location, price, & convenience drive decisions
Guests primarily use location and price to decide which car they want to book, though Book Instantly comes in third: 15% of guests, often local folks looking to get out of town, look for cars on-demand.
Guests love convertibles & all-wheel drive
Most guests aren't looking for specific car features, but those who do tend towards either convertibles or all-wheel drive.
Lots of locals, many metropolitans
While 39% of guests are local, the city also attracts visitors from other large cities like New York, San Francisco, and Chicago, as well as many overseas travelers from Great Britain, Australia, and France.
Demand spikes for spring festivals & summer vacations
Thanks to LA's famously pleasant weather, the travel industry stays active all year round, with significant spikes in early spring and mid-summer. Hosts earn 7% more in April due to events like Coachella, and earn 6% and 13% more in July and August, respectively, as guests turn to Turo for their summer vacation plans.
***
As Turo scales, our savvy LA hosts continue to learn and improve alongside us. Thanks for reading — hopefully this data helps you and the rest of the community better navigate the marketplace.
Want to see how much your car can earn on Turo? Check out the Turo Carculator to get a custom earnings estimate for your specific make, model, and year in your local market.