How Christopher maintains five star reviews for his seven BMWs
The host stories series showcases the best and brightest of hosts on Turo. Read on to find out how BMW-enthusiast Christopher turned a passion for cars and detailing into a full-time business.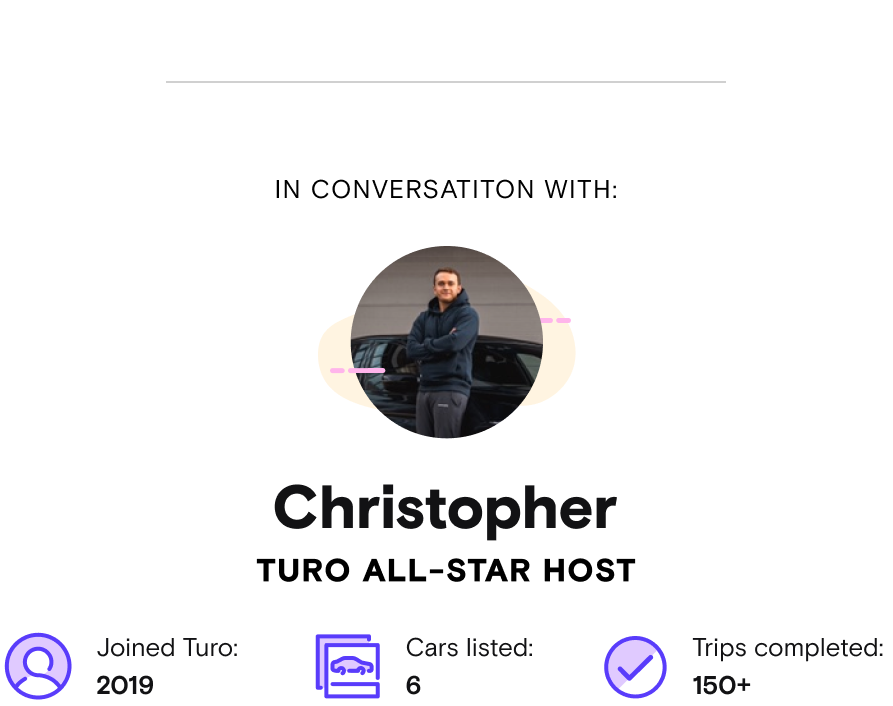 ---
How'd you get started?
Prior to becoming a Turo host, I'd dabbled in the guest side of car sharing, but I'd never thought to make the switch to the other side. Then, in 2019, I was looking for a new car and decided on a BMW 5 Series with the intention of sharing it with my community on Turo, too.
What have you done to create a next-level experience for your guests?
I found that people loved the effort made when you add small extras. Things like bottles of water and charging cables are really simple, but also help make the sharing experience even more effortless. Guests also appreciate the thoroughness with how the vehicles are cleaned, ensuring that every ride feels special.
What cars do you list on the platform?
I found my niche providing upscale cars with a little extra and it became my "thing". The 5 Series was the first car I started with and it was such a great car that I've found it hard to move away.

It helps that we have a good relationship with one of the BMW service centres. That allows me to book cars in for a service or maintenance with short notice and ensure they get well taken care of and, in turn, my guests always get a vehicle that's at the top of its game. I've had lots of different cars listed on the platform, including 3, 4 and 5 Series BMW's with a variety of engines and styles. I'll soon move onto more exotic cars — I've currently got my eye on the new Z4!
How did you turn sharing on Turo into a full-time venture?
As soon as I started on Turo, that first car was practically fully booked, which gave me the confidence to get the money together to buy another car — this time a newer BMW. As I went along we saw that my guests appreciated how clean the cars were; inside they were spotless and outside they were sparkling.

I was also very flexible and accommodating to my guests' different needs and last-minute requests. That meant my guests felt special when they came to book with me. This then turned most of our guests into repeat customers, even guests who had rented from other hosts before became loyal to me.
How have the extra earnings from Turo impacted your life?
I was able to turn it into a full-time venture and embrace my enjoyment for cars. I personally love cleaning and detailing cars, so it's allowed me to invest in high quality equipment that I wouldn't have been able to get before and furthers the quality of the car we give to the customer. It's also great being able to use the cars when they're not being used by guests. There's no other way I'd have been able to drive such a variety of high quality cars all the time if it wasn't for Turo.
What concerns did you have initially when joining Turo?
As with any business venture it's always a risk. I was buying an expensive vehicle almost wholly on the basis to turn it into a business. I'd always had some doubts, but Turo gave me confidence that they could provide the customers to make the risk a success — and they did. Although I've had times of lower demand, that only followed the direction of the car rental and sharing market.

What advice do you have for new hosts?
I'd say the most important thing is to make sure you know the market for the type of cars you're listing and try to find a unique selling point to gain loyal customers. For each rental try and put yourself in your guest's shoes and give them the car the way you would like to receive it yourself. At the end of the day it's more than just renting cars. You're providing not just a car but an experience, so make it one they'll remember.
Have your cars ever been damaged during a Turo trip?
I've only had one incident where a customer damaged a car. When I picked it up he hadn't even realised the scuff he'd made and was sincerely sorry for it. I got a quote from a garage to fix it, he approved it and it was all fine. I think it's important to remember your vehicle will see some wear and tear — that's part of the business. Most people are extremely careful and considerate with the cars, but Turo are always there to help you with any problems you may come across.
What's your most memorable experience as a host?
It's hard to put a finger on just one memorable experience. Every time we meet a guest, getting to talk and engage with them is a great experience. Everyone has an interesting story and it's wonderful finding out what brought them to us. Lots of my guests are repeat customers so it's great to hear updates from their lives each time and they love to see how I'm getting on too. For example, one guest came to me as he was looking to purchase a similar car to the one I had listed. He fell in love with it and bought one similar. He's now a great friend and we regularly see each other and help each other out with car-related stuff!
---
Share your car, earn extra cash
Cover your car payments or earn some extra cash by sharing your car whenever you're not using it.
Get started
Hit the road
Browse thousands of cars for every occasion and budget near you, or wherever you're going.
Browse cars
Disclaimer:
The views, opinions, and responses represent the experiences of Turo hosts and do not necessarily reflect those of Turo. The earnings results are applicable to the hosts featured and do not represent the experience of all hosts on Turo nor do they represent an average. Results from car sharing on Turo may vary. If you have questions about hosting on Turo, please contact a customer support representative here.